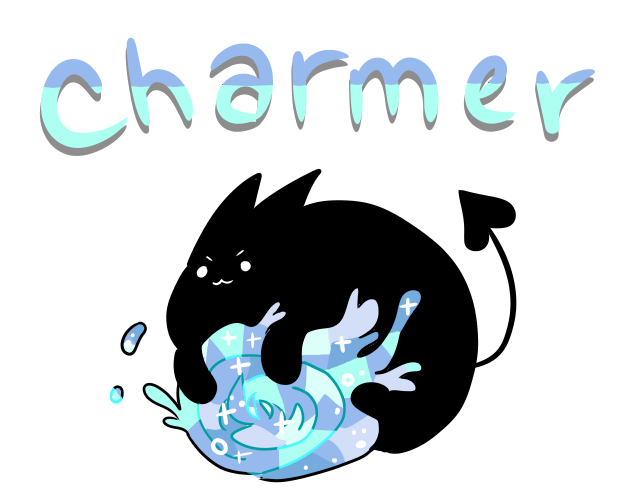 Charmer
A downloadable game for Windows and macOS
Say hello to Charmer, a five-level adventure featuring a little forest sprite that needs to combine the pieces of the Blue Flame in order to save its friends! Nighttime is creeping up, and everyone in the forest needs to keep warm. Enjoy this little puzzle-platformer. Remember: never give up!
Project Overview
Charmer is a game that is exactly what it sounds like—a short, cheerful adventure. It consists of five levels in which a small forest creature navigates about its environment, pushing various components around in order to solve puzzles. These puzzles are the things that prevent the Blue Flame, the heart of the forest, from combining with other flames. If the Blue Flame were to diminish, there would be no warmth in the magic forest. Players may achieve this goal by traversing ramps, jumping on platforms, falling down, and climbing all the way back up.
Charmer is not meant to be an anxiety-inducing game. Its atmosphere is relatively relaxed but can still be challenging. Players will engage with the experience by allowing the game to be a challenge for them, investing in the puzzles and not giving up when presented a block in the road. By not giving up, players will exercise their thinking skills and will be much more satisfied when they do complete the level.
Made with Unity 2D
Core Gameplay Mechanics
W, A, S, D and arrow keys are used to control the forest sprite main character
Spacebar to jump
N to restart the level
Goals of the Project
Hone hand-eye coordination of players, especially those who are not used to using this skill.
Provide a simple but fun engagement that is both visually pleasing and intellectually stimulating.

Some games have exemplary gameplay, but have an eyesore in aesthetics. Other games are definitely pleasing, but are less than engaging in their mechanics. My goal is to try to achieve both of these for a well-rounded game.

Practice my own game-making skills.

Practicing using the Unity engine was a valuable experience in itself, utilizing its abilities to make something my own. It helped me further my decision to follow a career in game development.
Terry Nguyen @ University of Texas at Austin (Foundations of Games & Playable Apps by Prof. Cohen)
Check out my ArtStation (@loremonger) to see the building process for the levels and art! https://www.artstation.com/loremonger
You can also find me on Instagram (@lankamora) and YouTube (@LANKAMORA) to see other stuff I've been doing. Or, you can email me at tenguyen1317@gmail.com.
Music is "Solve the Puzzle" provided by Patrick de Arteaga. Go see all his other great work at https://patrickdearteaga.com/royalty-free-music/
Install instructions
1. Download file corresponding to your computer
2. Unzip
3. Click on executable file